For a limited time, all current and former subscribers to The Crafts Report can purchase brush sets at drastically reduced prices. In many cases, up to 60 percent or more off retail! This Royal & Langnickel 13-piece standard-handle Soft-Grip brush set retails for $34.98. Order it today for only $13.99! Where else can you get great quality brushes with acrylic handles for a little over a dollar each? And, as a bonus, a zippered storage case is free. These brushes are ideal for watercolor, acrylics, and ceramic glazes.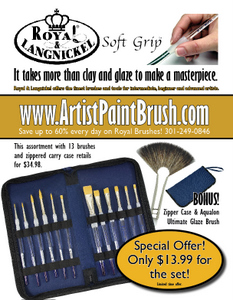 If you are looking for easel-length brushes, this set is for you. The long-handle Soft-Grip brush set comes with a dozen acrylic-handle brushes with comfort grippers and durable golden taklon bristles for only $17.99. Plus, it also comes with a zippered carrying case. Use these brushes for watercolor and acrylic painting. Purchased separately, these brushes and case retail for $55.87.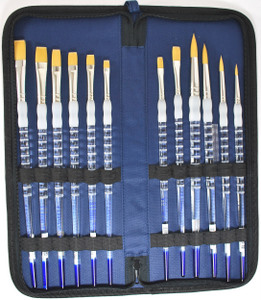 Are you looking for superior quality brushes for oils, acrylics, watercolor, or other mediums? Thousands of brushes are sold individually or in sets at www.ArtistPaintBrush.com. The special sets shown in this promotion are available for a limited time, but discounted prices on all brushes are available every day.