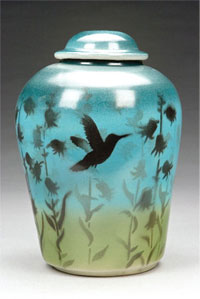 As the market for handmade craft con­tinues to idle while faced with the current econ­omy and an excess of imported work, artists are scram­bling to seek any remaining untapped opportunities to fill the sales void. Out of this search, a small but growing number of craftspeople are finding new life—pardon the phrase—in the thriving funeral industry.
Once the exclusive domain of impersonal choices, the funeral business is undergoing some fundamental changes as a new generation of people familiar with handmade work begins to age and think about confronting their "time." From memorial urns to funeral candles to service booklets and cards, people who appreciate unique handmade work are asking for choices that reflect themselves as individuals both in life and in death.
This trend is still in its early stages, but artists who have gotten on board early say they see promising signs for the future. And these inroads are being made even though the funeral industry is known as a tight-knit and slow-to-change business.
Spirituality drives artists
While it may be difficult to generalize, it's fair to say that artists do tend to embrace spirituality as a group. And for some craftspeople, the desire to get involved in the funeral industry initially has as much to do with their own spiritual needs as for monetary reasons.
"I have always had it in the back of my mind to create artistic contemporary cremation urns when I saw the choices people had at the funeral home," confides potter Lucy Fagella of Greenfield, Mass. "For the most part, I thought of these urns that were available as [being] as scary as death itself. They seemed to belong to another century. The designs were as dead as what was stored in them."
Fagella shares that she was first inspired with the idea of making memorial urns in 1998 when she lost both of her parents. But it wasn't until 2004 that she finally created her first urn, at the request of a student of hers whose grandmother had recently passed away. Her student loved the urn and urged Fagella to make a business of them. Inspired by positive feedback she received from this first memorial, Fagella designed a line of urns that she started selling in 2005.
In just the few years since, Fagella's memorial urn sales have grown to where they now account for about 25 percent of her sales. And she expects that percentage to continue growing.
A largely untapped market
Industry sources say that the average funeral costs in the United States range from about $6,000 (according to the U.S. Federal Trade Commission) to $6,500 (according to the National Funeral Directors Association). And that's before counting in the actual costs of burial and "extras" such as flowers and cards. The Federal Trade Commission believes that a typical funeral can cost from $10,000 to $15,000 when all related expenses are calculated.
Even assuming that most costs are still paid to those traditionally engaged in the funeral industry (such as funeral homes, cemeteries, florists, etc.), this leaves a staggering amount of money spent each year on funerals in the United States. Just a small piece of this is a windfall to artists who can find a niche in the market.
David and Suzanne Enna, of Zig Zag Urns, discovered this when their foray into making porcelain urns gradually took over much of their existing craft business. "At first the urns were [just] 'interesting,' but as time went on we found that we were having such personal contact with so many people, and that is what making things in clay is really about," David Enna maintains. "We still make mugs and bowls, but [only] on a small scale," he adds.
From their studio in Zigzag, Ore., the Ennas ship from one to as many as 12 urns a day. Like others who venture into the funeral business, they say that because of the delicate subject matter of death, they were nervous when they started selling urns.
"But after dealing with so many people on an individual basis and via the Web, we found that we were making people really happy," Enna continues. "It was not negative in any sense of the word because people were always pleased that there was this personal touch."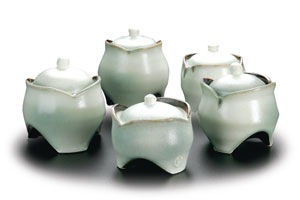 A personal touch is often missing
Keith Lahti is another artist who finds that people respond well to the personal touch an artist's creations can offer during a time as difficult as the funeral of a loved one. Lahti, of rural Chloe, W.Va., experienced this firsthand earlier this year when he attended the funeral of a good friend's mother and saw one of his memorial urns "in action" as part of the service.
Lahti (featured in this month's "Insight Gained") takes his job as an urn craftsman quite seriously. "With the remains of a loved one inside, the urns do take on the role of a 'sacred object,'" he explains. "I regard it as quite a responsibility to create a vessel of such importance to people."
Like others in this burgeoning field, Lahti has only actively marketed memorial urns for a few years. Still, he finds the urns are an integral and growing part of his overall business.
Other opportunities
Outside of urns and similar memorials, other opportunities exist—though perhaps not as obvious at first thought—for enterprising artists to make inroads in the funeral industry.
A personal connection led jewelry artist and candlemaker Cindy Adams of Lafayette, La., into the funeral business. A friend asked Adams to make a funeral candle, and from that one creation, Adams confides, "It took off from word of mouth."
Adams' keepsake flower candles feature a funeral flower that is worked into a one-of-a-kind hand-poured candle. A self-taught candlemaker, Adams appreciates that there is something different about her funeral work compared to traditional decorative or even wedding candles.
"This is very personal," she observes. "I feel really honored every time someone asks me to make them a candle."
An idea from overseas
A handcrafted item for the funeral industry that seems more common in the United Kingdom and Australia than in North America (but has a great potential market here) is the creation of custom funeral stationery.
Carole Mort is an artist from Bolton in the United Kingdom who specializes in handmade wedding stationery, memorial cards and "order of service" cards for funerals. Although the majority of her business is devoted to weddings, she notes that funeral work makes up a small but spiritually important portion of her craft. "With funeral stationery," Mort adds, "I always tell people who want this sort of thing that [the cards and booklets] are a celebration of people's lives."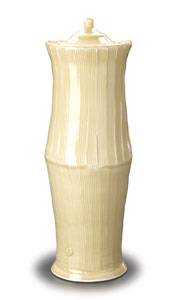 How and where to market
Adams found the funeral industry was something of uncharted territory when it came to marketing her handmade candles. The industry tends to stay closed to outsiders, and there are limited opportunities to do direct marketing.
So Adams took matters into her own hands. She promotes her funeral work through her own website. And much to her surprise, she discovered that a local garden shop where her non-funeral work is featured has turned out to be a better source of funeral candle business than the one funeral home that features her work.
Fagella initially marketed through a website and with color brochures. Looking back, she believes the brochures, while attractive, did not reach enough buyers to justify their expense. She also sent out mailings to funeral homes and advertised in a newspaper for funeral directors. But, she shares, "The funeral industry is pretty set in their ways. They have purchased from the same dealers as their fathers have for decades." As such, she finds most of her marketing success comes from online sales or word-of-mouth referrals.
David and Suzanne Enna have the fortunate "problem" of not needing to deal with marketing issues. "We don't really think that much about more marketing," David Enna notes. "We are working gangbusters as it is."
Handmade can cost less…and mean more
Much to the surprise of many buyers (and even some artists), the high markups typical on product pricing in the funeral industry often mean that handmade work is not only unique and better made, but also costs less. "Buying an urn at a funeral home is usually three times as much as one of my handmade urns," Fagella notes. "People see the difference in price immediately."
Lahti finds much the same with his customers. "I can offer a custom, unique urn for what is often a price comparable to a much less personal choice from a funeral home," he agrees.
And then there are the intangible benefits—the things about a handmade object that can help people feel better during a time of immense sorrow and loss. "They see the detail," Fagella observes, "[and] the craftsmanship and the life these urns have in them, and [they] know it is worth it." TCR
Mike Ricci is the former art director of The Crafts Report, and a current freelance writer and designer. He can be reached at mricci7165@comcast.net.