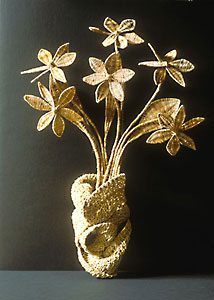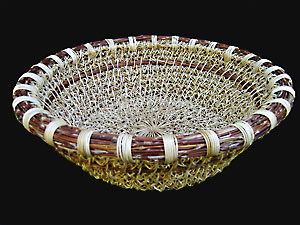 Regional Market
Anna Scarpa McCauley, Free Union, Va.
Throughout the years, I have found many efficient ways to market my honeysuckle baskets. The southern states, where customers are very familiar with wild honeysuckle, tend to be my best market region. I find that giving people ideas of how my baskets could be used helps bring a lot of sales. Also, I keep my baskets at a wide price range, allowing them to fit just about any budget. From the time I began making these at age 12, I have enjoyed a good market for my work. People love that they are original, beautiful and durable—for use and decoration.
Anne Scarpa McCauley
anne@honeysucklebaskets.com
www.honeysucklebaskets.com
---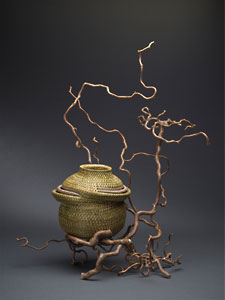 Mailings to Collectors
Debora Muhl, Spinnerstown, Pa.
I currently do a few high-end retail shows each year. My best market is on the east coast (Philadelphia, Boston and Washington, D.C.).  I also work with high-end galleries: del Mano, Snyderman-Works and Lyndsay McCandless Contemporary. I find it is important to do mailings to reach my collectors before every event. I also apply to several exhibitions through the year to keep my work "out there." A few years ago, I approached a local private school that has a great gallery space and they agreed to host my first solo show. This led to another solo show at the Allentown Art Museum. And, of course my website is invaluable.

Holiday Juried Shows
Jill Choate, Trapper Creek, Alaska
The J. Choate Basketry product line of antler basketry and birch bark products captures the spirit of Alaska and makes it portable. Our products are the perfect gift for the thousands of tourists that visit Alaska and want to bring a bit of their wilderness experience home with them by purchasing a handcrafted work of art. Art galleries and gift shops are the prominent market for our products. During the holiday season, we are involved in a variety of juried shows including the Anchorage Museum Crafts Weekend Gala. Outside of Alaska, our basketry has been accepted to juried competitions such as "Web & Flow," a juried international basketry exhibition located in Minneapolis, Minn.
Jill Choate
jill@jchoatebasketry.com
www.jchoatebasketry.com
---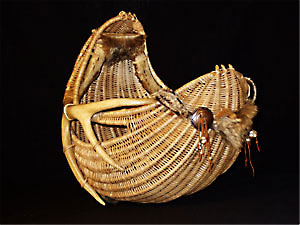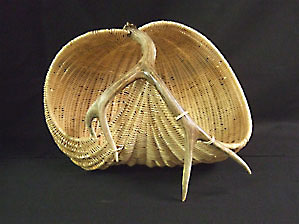 Website, Press and Exhibits
Karen Zane, Anderson, Ind.
I have been teaching basketry since 1999. My website is bursting with information for the basket weaver. I teach at conventions, guilds and workshops around the country. I have been featured in the Northeast Basketmakers Guild's newsletter and the fall 2008 issue of Just Patterns magazine. My basket, "Sea Creature" was featured in the 2008 exhibit "Big and Little: Baskets Both Large and Small" at the Philip Dickel Basket Museum Gallery in the Broom & Basket Shop in West Amana, Iowa. I will be one of the teachers for the Basket Bits magazine Caribbean cruise in February 2010.
Karen Zane
kzanebskt@aol.com
www.karensbaskets.com
---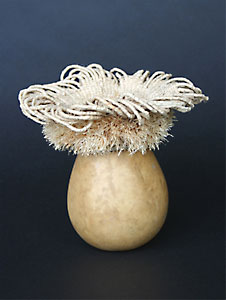 Meeting the Decision Makers
Keely Berry-LeBlanc, Escondido, Calif.
I have found the best marketing for my work is from  word-of-mouth and gallery shows. The galleries I've found have been through extensive online research. When traveling, I take along CDs of my work to leave with the gallery owners. Meeting the people who make the decisions is key. Another important part of my marketing plan is press releases. Whenever something new and exciting happens with my work, I send out a press release. Local media is always looking for personal stories about people in the community. Don't be afraid to put yourself out there; the worst that can happen is you're told, "No."
Keely Berry-LeBlanc
basketry@berryleblancdesign.com
www.berryleblancdesign.com/bskt_home.html
---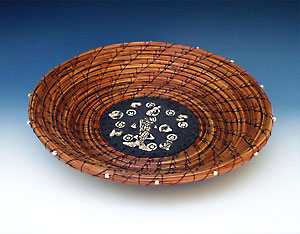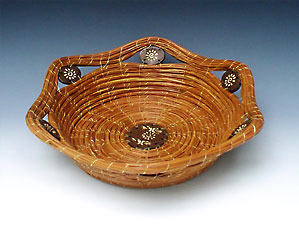 Get Your Name Out There
Melanie Walter, Wilmington, N.C.
The best market for my baskets has been locally. I joined a cooperative gallery, Port City Pottery and Fine Crafts, and have found my most consistent sales from this venue. The gallery is open seven days a week, which offers maximum exposure for my work. I also have my work in our local museums and some smaller shops, and am a member of WholesaleCrafts.com, which has yielded some orders. In this economy, my strategy is to have my work (and name) "out there" in as many locations as possible in order to keep selling my work.
Melanie Walter
Pine Garden Baskets
pgb@pinegardenbaskets.com
www.pinegardenbaskets.com
---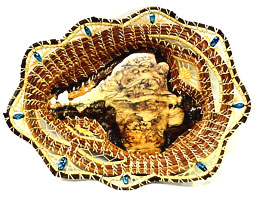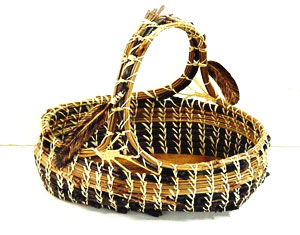 Strategic Signage
Myrna Austin, Sixes, Ore.
I have been making original pine needle baskets for the last 20 years and they have sold well at various shows in the Northwest, however, my baskets sell best right out of our shop. The "PINENEEDLE BASKETS" on our sign brings many people through our doors. My husband makes beautiful bases for my baskets out of various kinds of wood and also pinecones. Every piece I do is an original—I have never followed a pattern. People love to buy from the artist and know that there will never be another like it.
Myrna Austin
A and T Myrtlewood
aandtmyrtlewood@wildblue.net
www.aandtmyrtlewood.com
---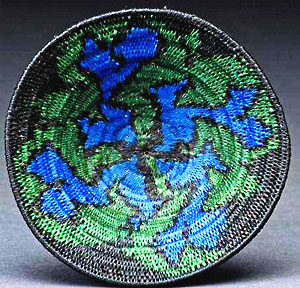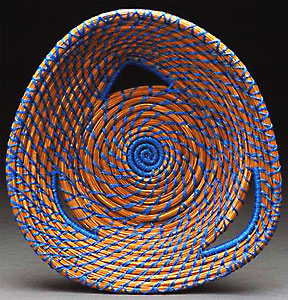 Success Leads to New Opportunities
Pamela Zimmerman, Washington, N.C.
Sometimes previous success can lead to opportunities. When a gallery had sales in a specific line of my weavings, I proposed a showing based on that series. I tend to have many different lines of work, and generally do not produce more than one or two pieces in each line in any given year. The gallery was interested in having me produce more work in a line that was a proven seller, which also gave me the opportunity to explore the concept in more depth and develop it, artistically. This is something I have never really had an opportunity to do before. It also allowed me to put together a more thematic portfolio. By my modest standards, the show was a success. I hope I have the opportunity to use this strategy again. Photos by Ronald L. Sowers Photography
Pamela Zimmerman
pamela@pamelazimmerman.net
www.PamelaZimmerman.net
---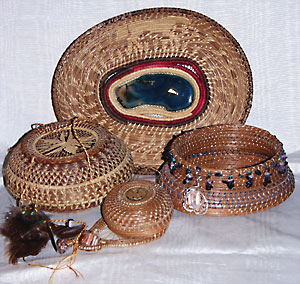 Search Engine Optimization
Peg Arnoldussen, Appleton, Wis.
Coiling pine needles is one of many media I create with, often embellishing the baskets with other personal craft art. Coiled baskets are sewn together, combining form with decorative, artistic needlework. My sole marketing method is the Internet. I develop and maintain a website that is search engine optimized, easy to navigate and graphically appealing. Making purchases is simple with online payment processing, or customers can mail their payment. Because I am the Web developer, the site is inexpensive. It's internationally accessible, drawing customers by providing instructional pages for basketry and other crafts. I also self-publish instructional, illustrated booklets, which are for sale on the site.
Peg Arnoldussen
Peg's Pine Needle Basketry
yahsfiberartist@gmail.com
pinebaskets.tripod.com
---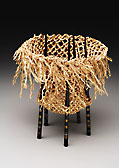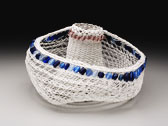 All About Relationships
Therese Fisher, Portland, Ore.
It's all about relationships: with myself, my art, my customers and my students. My most financially successful shows are the ones at which I'm not focused on what other artists' booths or products look like, but where I'm comfortable with myself and my artwork, present and enjoying the moment surrounded by the amazing expressions of my life and creativity and sharing, even if briefly, in the lives of others. I have also found my monthly newsletter, with articles, free patterns, and event listings to be a fantastic marketing tool and a great way to facilitate continued relationships with my customers.
Therese Fisher
Fisher Art Studio
therese@fisherartstudio.com
www.ReikiWeaver.com
www.FisherArtStudio.com
---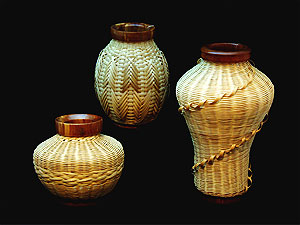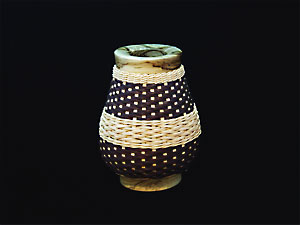 Marketing on the Internet
Jenny Antoline, Montgomery, Ala.
I have been a basket weaver for nine years and have been selling my baskets through my website for seven. I have found the Internet is a great place to market my work, and I now have customers from all across the United States and in several countries. My best advertising has been by word of mouth, through teaching classes and participating in art and craft shows. Great contacts are often made through local art guilds, galleries and museums. Advertising to interior design and architectural firms can lead to large-scale sales as well.
Jenny Antoline
Gypsy Baskets
jenny@gypsybaskets.com
www.gypsybaskets.com
---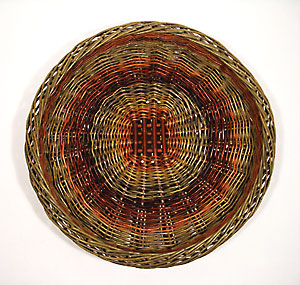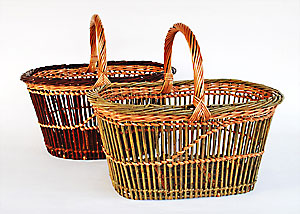 Engage the Interest
Katherine Lewis, Mount Vernon, Wash.
I weave functional willow baskets using willow grown on my farm. I market through an artists' studio tour, arts and crafts events, farmers markets, basketry guild events and through my website. I find that demonstrating my work at events engages the interest of potential customers. Web sales are often commissions, where I work with the customer to produce an item that meets their needs in use, size and color. Photos of my baskets and farm allow customers to connect with my work. In both face-to-face and Web sales, it is important that the customer and I become acquainted.
Katherine Lewis
Dunbar Gardens Willow Baskets
baskets@dunbargardens.com
www.dunbargardens.com
willowbaskets.wordpress.com
---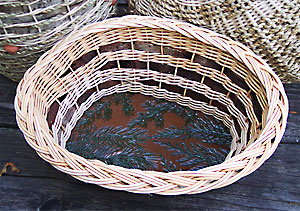 Artful and Useable
Sharon Gunter, Sandpoint, Ind.
I do enjoy creating artful pieces, but my baskets still need to be useable. I demonstrate weaving as a vendor at fiber-related events and the most satisfying is our local farmers market at Sandpoint. I love meeting tourists from all over the States as well as those from other continents. People will stop and ask questions about the materials I'm using, such as, "What is the basket going to be used for?" "Is that a real antler?" and "How do you dye the reeds?" A personal favorite is, "Do you underwater basket weave?" to which I reply, "No, but I do like to sit in the water at the lakeshore and weave." People have bought the basket I was making just because I was making it right then and there.
Sharon Gunter
the Basket Case
sharongunter@nctv.com
sharongunter.com