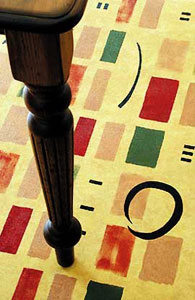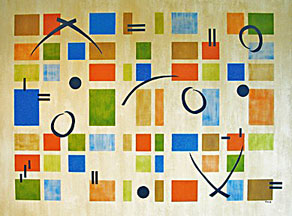 Burst on the Scene
Debra Gould, Toronto, Ontario
When I moved to a new city, I needed to "burst on the scene" for my floorcloths to get noticed. I organized an artist studio tour in my neighborhood, bringing hundreds of visitors to my studio that never would have come if I had just held my own open house. I also pitched a story to a magazine and ended up on their cover. When donating art for auctions, I also display brochures. My website is included in everything I do to help broaden awareness for the Debra Gould Home Collection, and I ship worldwide for orders that come from my site.
Debra Gould
Debra Gould Home Collection
sales@debragould.com
www.debragouldhomecollection.com
---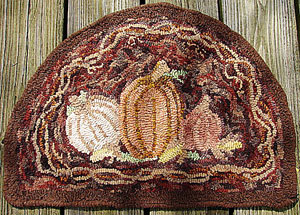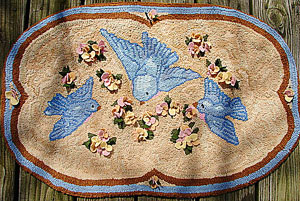 Know Your Market
Dianne McLaughlin
Chester County, Pa.
I find that my largest market consists of those that are interested in the simplicity of an early American lifestyle and the crafts associated with that era. My website uses search engine optimization to cater to this demographic. I am listed in the Early American Life Artisan Directory and I also attend several juried living history events and shows throughout the year. Attending these events allows me to connect with my customers on a personal level and has given me valuable insight into developing my craft and marketing my art. Without the personal contact, I would not have been aware that there was a large demand for rug-hooking patterns, not just finished rugs. I was able to modify my offerings to include a line of original designs that others could complete. Since I found the personal contact of the shows to be so rewarding on both a business and personal level, I now maintain a blog. The blog allows me to connect with my worldwide Internet market and has been the best source for commissions and custom designs.
Dianne McLaughlin
Prim Purdy Pickins
dianne@plumpurdyprimitives.com
www.plumpurdyprimitives.com
---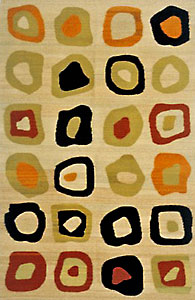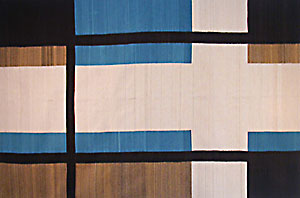 Made to Order
Linda Belden, San Francisco, Calif.
My business is largely "made to order," so interior designers have been the focus of my marketing attention. To that end, I have sought out publicity in design magazines, and have gotten business from those contacts. I have also built an e-mail list of interior designers (both local and national), and regularly send them an e-newsletter. I have exhibited at trade shows, which is a great way to make contacts and connections. However, I believe that the most consistent business comes from the stores that carry my rugs.
Linda Belden
Linda Belden Handmade Rugs
linda@lindabelden.com
www.lindabelden.com
---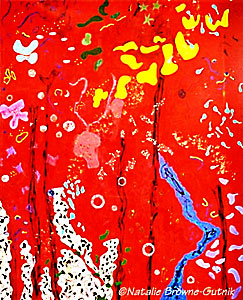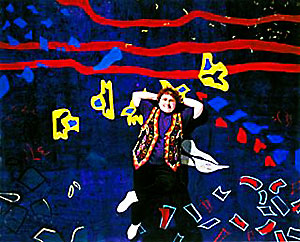 A Personal Relationship
Natalie Browne-Gutnik and Martin J. Gutnik, Bayside, Wis.
Floorcloths present a unique opportunity to share a personal relationship between me and my customers, which I believe is the purpose of art. I try to visit the home of my customer to get a feel for where a floorcloth is going to "live." My painting style is organic, and I like to hide things of special meaning for both me and my clients inside these canvas floor paintings. The people drawn to my artwork are those who like open spaces and generally bright colors, and I dress in clothing that reflects my palette. I have written articles about the history of floorcloths, know about the properties of paint and sealants and chemical dry times, and I stand behind my product. Photography by F. Fischer
Natalie Browne-Gutnik and Martin J. Gutnik
Natasha Floorcloths
natalie@floorcloth-natasha.com
www.floorcloth-natasha.com
---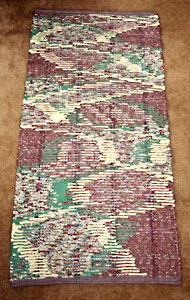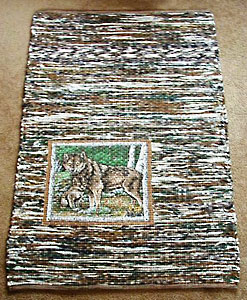 Be Seen Locally
Robin Murphy, Deerbrook, Wis.
Word of mouth has been a great marketing tool for me, so I try to get my work seen locally. I donate items to our public radio station's Fine Art Auction and have had my handwoven textiles in shows at the Nicolet Art Gallery. My internet presence, through my website, Etsy and even the e-mail lists I belong to, has generated inquiries and sales. Shops that feature handcrafted furnishings and local artisans are an excellent venue for my one-of-a-kind rugs. When I want to expand my customer base, I will look into the marketing possibilities of Facebook and Twitter, as well.
Robin Murphy
Northwoods Weaving
robin@northwoodsweaving.com
www.northwoodsweaving.com
NorthwoodsWeaving.etsy.com
---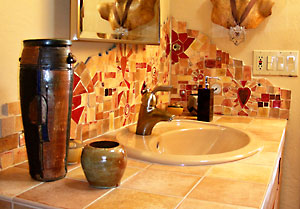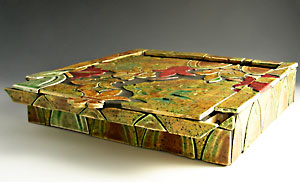 Home Gallery Show
Vickie Morrow, Scottsdale, Ariz.
Handmade tile sets my mosaics apart and gives me the ability to create custom mosaic backsplashes, niches and floor and wall accents. Mosaic mirrors, handmade tile tabletops and treasure boxes are sold in galleries and a few select shows. I have a studio gallery show in my home twice per year to showcase backsplashes and other architectural installations. Press releases have been very effective and have landed feature articles in home and garden magazines. E-mail is the best way to stay in front of my clients; I send something every three to five weeks. Oversize postcards with a photo on the front and invitation to my studio show on the back are great handouts. People love them and save them. Having a website is also essential; it showcases my work, gives credibility and is easy to refer to. You can't hand out enough business cards with your website printed on it!
Vickie Morrow
Tile Art Mosaic
www.tileartmosaic.com
www.inoutdecor.com
---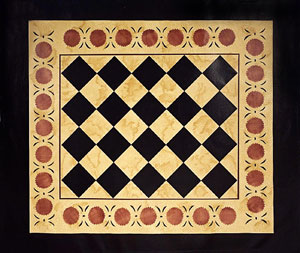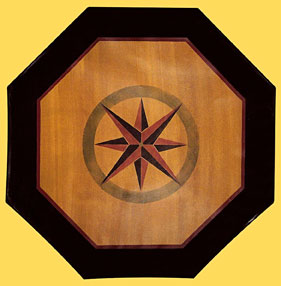 Knowledge Is Helpful
Michele Hollick, Hollis, N.H.
Our marketing strategy utilizes retail and wholesale trade shows, mailings and our website. Ordering is always done directly with the artist so you always get a personal touch. My current trade show markets include Goodrich and Company Promotions, the Waterford Virginia Show, and the League of New Hampshire Craftsmen—all of which highlight Handmade in America products. These markets know and appreciate floorcloths, which is especially helpful in the custom ordering process. Our business is roughly 50-percent custom creations, with the balance being standard options produced in our barn of small batches of two to six pieces. Continuing education keeps me current in the changing world of paint and finishing products. I also teach many workshops during the year, including the International Stencil Artisan's League's Annual Convention.
Michele Hollick
Stenciling by Michele
stencilingbymichele@charter.net
www.stenciledfloorclothsbymichele.com