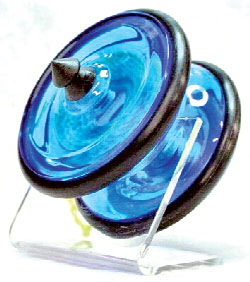 Ed Davidson doesn't mind one bit that his work has experienced more than its share of ups and downs. In fact, as a professional woodturner who creates several hundred yo-yos every year, Davidson wouldn't want it any other way.
At first glance, Davidson's yo-yos have little in common with the cheap, plastic toys of the same name that are enjoyed by kids of all ages. His yo-yos are more akin to works of art. Often crafted from gorgeous exotic woods and equally exotic acrylics or resins, many of Davidson's handmade yo-yos feature elaborately carved designs and embedded jewels. Some collectors even buy his yo-yos to display on tiny stands as small-scale art.
On closer inspection, however, it's clear that Davidson designs his yo-yos for both viewing and playing. Pick one up, slip the string around a finger, give it a good throw and any of Davidson's yo-yos will perform an admirable "walk the dog," "sleeper" or other classic yo-yo trick. It's this balance of beauty and utility that have helped Davidson carve a name for himself as one of the elite few in today's niche market for handcrafted collectible yo-yos.
In the 30-plus years since his introduction to woodturning, Davidson has created just about anything that one can imagine turning on a lathe. From larger objects such as bowls to smaller pieces like pens and bottle stoppers, he's made them all. But yo-yos are perhaps what Davidson is best known for these days. "I try to make 200 to 300 yo-yos every year," he notes, adding, "They are my favorite turning by far."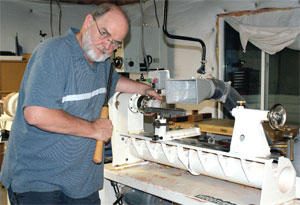 Made in his studio in Colorado Springs, Colo., Davidson's trademark designs feature a yo-yo in which the entire toy is turned from a single piece of wood. This one-piece design eliminates the need for glue or fasteners to hold the separate sides and axle together. "The one-piece yo-yo turning technique I've come up with yields a unique piece that I think is pretty collectible," he muses.
Davidson still turns a good amount of other work, but his focus on yo-yos shows through clearly in his marketing materials. He uses "yoyospin" as his online nickname, and his website address is yoyospin.com.
But yo-yos weren't always his passion. In fact, Davidson maintains, woodworking in general simmered as an interest that was mostly just a "weekend hobby" for years. His initial introduction to woodturning occurred in a junior high school class.
Falling in love with wood
Davidson recalls his start in woodturning was a bit inauspicious. His first turning project in school was a bowl that ended up being 6 inches in diameter, even though the directions specified 8 inches. He remembers being disappointed to only earn a "C" for the project. "Guess I got a little carried away with the wood removal process," he quips.
After his schooling, Davidson spent time as a U.S. Marine, and then had a professional career as an engineer and program manager for some 25 years. But, in 1996, he retired to pursue his desire to become a professional woodworker.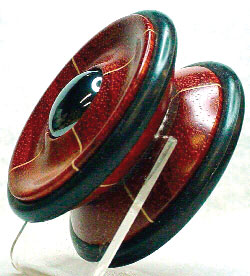 A natural progression
Davidson initially focused on creating small furniture and jewelry boxes, not on woodturning. Then in 1999, a friend who made and sold limited-edition, high-end metal yo-yos asked him to make an accompanying round box for each of the yo-yos. Davidson recalls arguing that he wanted to make traditional square boxes instead of round, but his friend finally convinced him to use his lathe to turn round ones.
The experience honed his woodturning skills immensely and gave him the confidence to consider turning for a living. "After turning 400 yo-yo boxes in many exotic woods over a two-year period, I had pretty much mastered the process of lathe-turning design and hand-tool technique," he observes.
Making yo-yos instead of just yo-yo boxes seemed a natural progression, and Davidson found several logical reasons to focus on yo-yos and other small, functional work that he could craft somewhat quickly and inexpensively. For one, he says, "To get enough practice and skills under my belt, I [knew] I'd need to make a lot of something." And financially, he discovered that his small turnings sell much better than larger items like bowls or other non-functional pieces.
"Over the past 10 years, I've made and sold literally thousands of yo-yos, pens, bottle stoppers and kaleidoscopes," Davidson shares. "[It] turns out that these small turnings are tremendous skill-builders," he adds.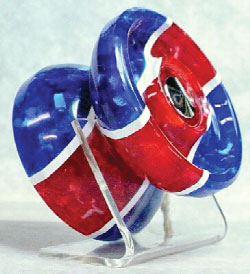 Yo-yos in many colors and materials
Davidson's wood yo-yos run the gamut from ones crafted of silky smooth exotic woods featuring fantastic grain patterns, to plain hard maple yo-yos encrusted with jewels, carved or engraved.
He stretches the traditional boundaries of woodturning with his visually stunning line of cast acrylic and polyester resin yo-yos. The yo-yos he turns from these materials have similar shapes to his wood ones, but come in dark reds and blues, and striking yellow and green shades that seem to border on neon in their intensity.
"These products turn nicely and offer two things I cannot get elsewhere: vivid colors and a turning medium that most of my peers do not work with," he explains. "Call it a niche with pizzazz."
Where and how he sells
Davidson prefers to sell much of his non-yo-yo work on consignment, avoid­ing the costs and hassles of attending shows and not having to deal with issues like insurance, sales tax and credit cards. Living in a tourist area of the Rocky Mountains, he finds steady sales of his smaller, functional turnings such as bottle stoppers and other inexpensive gift items at a handful of consignment shops and galleries.
Davidson sells his yo-yos wholesale through a small network of online yo-yo specialty stores. And he shares that about five percent of his total sales come through his own website.
Like most full-time turners, Davidson supplements his craft sales with turning-related ventures. Among other projects, he wholesales his own line of "EPR" (which stands for "Ed's Polyester Resin") castings for pen and stopper turners to use. This product indirectly led to a successful offshoot venture into video.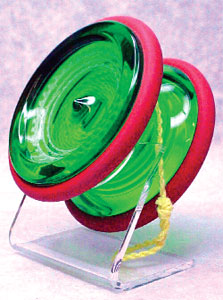 Moving into video
When some "EPR" users ran into trouble working with the new material, Davidson created free how-to videos to guide them. From this came the idea to make and sell a full-length instructional video, which led Davidson to create his Yo-Yo Turnings: The One Piece (no glue) Design DVD. He has sold some 1,200 copies of this video in only the past 2 years, and has two other turning-related DVDs available.
Combining a hobby and a business…and making it fun too
Davidson takes his successes as a professional turner in stride. While he needs to work hard to make a living at his craft, he also keeps in mind that one reason he retired from the business world 12 years ago was to escape the high stress levels there.
"Everyone should have a hobby you can have a little fun with," Davidson says. "If it pays for itself in the process…well, isn't that a good thing as well?" TCR
Mike Ricci is the former art director of The Crafts Report and a current freelance writer and designer. He can be reached at mricci7165@comcast.net.