Textile artist, designer and educator Kelly Cobb of Philadelphia, Pa., has revisited the concept of handmade clothing. With the help of 23 spinners, knitters, tanners and other craftspeople along with sheep farmers, she created the 100-Mile Suit—a complete outfit of under and outer garments made solely of materials raised, produced, processed and constructed within 100 miles of Philadelphia.
"In 2006, I asked my students at Drexel University to trace the origins of one piece of their clothing. The task proved impossible, and I realized how far removed we are from what we wear. Every garment we purchase took three to five pairs of hands to make, but we don't know whose hands," Cobb explains. The realization led her to the 100-Mile Suit project. Aaron Igler, curator at the Institute of Contemporary Art, University of Pennsylvania, was the model for whom the suit would be made.
Cobb began the project by sending e-mails to guilds, farming organizations, designers, schools, sheep and wool people, local newspapers, collectives and other craft-specific groups and friends. "People across the board were excited and eager to help, to volunteer and put in a lot of time for what they felt was a great idea. It was quite amazing," she recalls.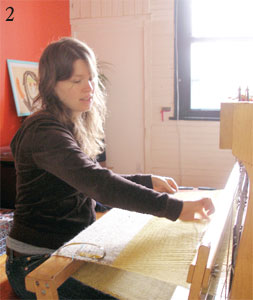 Creating the suit was a massive task. Nearly two-dozen artists volunteered 506 hours. "It was a huge undertaking, assembled on half a shoestring," Cobb notes. Three to five people were involved in making every piece of the suit. Because of the limitations of materials, funds and time, the 100-Mile Suit would be basic in construction and design and could in no way be mistaken for something industrially produced.
"I would have loved to have more time to design something truly unique, but found that the time I needed to undertake such an enterprise simply wasn't available," says weaver Mary Smull. "During the course of the project, I realized that the time limitation was actually fundamental to Kelly's conceptual foundation for the work."
Three sheep farmers contributed all the wool, nearly two miles of it. Sheep breeder and weaver Judi Lehrhaupt of Newtown, Pa., used Romney wool for felting the vest. Marlene Halstead of Ottsville, Pa., spun her sheep's fleece for the trousers. Knitters created socks and crocheters crafted underpants. Weavers turned the soft, thick fiber into the trousers and tie. Hand-carved buttons became the fasteners. The woven zipperless pants were hand-stitched. Dye from black walnut husks made the white wool a ruddy shade of brown, which textile artist Susie Brandt of Baltimore, Md., wove into a striped necktie. In her west Philadelphia studio, artist Smull, now a graduate student of fiber at Cranbrook Academy of Art in Bloomfield Hills, Mich., wove the cloth that would become the shirt and pants.
Shoes were shaped by Marie Wigglesworth of Hatboro, Pa. Andrew Twele, a tanner from the forests of Maryland, provided the leather.
Ninety-two percent of the outfit was locally grown, raised and processsed. The products not produced locally were highlighted in yellow dye, which was also made outside the area. They include the industrially manufactured yarn for the warp, threads, laces, cushion cork, and insoles. "If we had more time, I'm sure we could have gotten all the material from nearby," notes Cobb.
"The 100-Mile Suit was intended to begin a dialogue about regional resources and community," Cobb explains. It has succeeded. She has connected farmers with artists. Although she admitted the cost to purchase the 100-mile Suit would be prohibitive, Cobb sees a potential for regional craftspeople to work with farmers to create a local fiber product that can be marketable.
"I'm looking at the time when farmers and artists worked in their homes before industrialization," she comments. Cobb's family members were weavers in South Carolina whose lives were devastated by the mills moving out of the country. "A locally made product is a quality-of-life issue," she stresses. "People have jobs, but more important is the community which is built around the work. To have that community, which can span generations, is essential. I like to think of the suit as just an archive of one grand conversation between farmers, crafters and designers. Many of the individuals that collaborated to create the suit were strangers to each other prior to the project."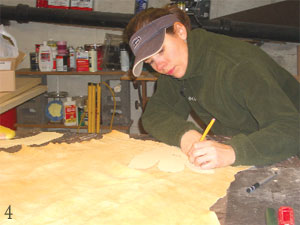 "This project helped me to put the world in perspective yet again," says Judi Lehrhaupt. "We take too much for granted, and our young people would benefit from learning the truth about where their clothing and food come from." Lehrhaupt is completing six years of study on her way to becoming a master spinner.
"I think about cluster economies and how ideally a small community could clothe itself," says Cobb. "If you bring the idea of local and sustainable clothing production down to the person-to-person level, the realization that a small community could clothe itself is possible with reasonable expectations and a little ingenuity."
"A common thread in my work is to utilize the garment/textile as a tool of connection and communication for re-­imagining relevant creative models for living," she adds.
Cobb developed the 100-Mile Suit as part of an exhibition at the Philadelphia Institute of Contemporary Art focusing on local communities and collective interaction. In addition to bringing craft artists together, the project used the gallery as a place where the public could view the process, talk to the makers and touch the materials.
The 100-Mile Suit has unraveled the disconnect between consumer and product. Since its completion in the spring of 2007, the Suit has traveled across the country. It was well received in Dallas, Texas, where people have family who are cotton farmers, notes Cobb.
"Most of our cotton still comes from Texas," she says. Cobb is pursuing a similar project in Portland, Ore., as well as a Linen Suit in the Philadelphia area. She has been invited to Los Angeles and asked to do a 100-Mile Suit in South Carolina. Cobb hopes to work with artists in Bolivia where there is a strong spinning/weaving culture. "This could be the beginning of something quite large," she enthuses. "It's exciting to put something larger than myself out there and see what comes back. TCR
For more information, visit the 100-Mile Suit project.
Captions
Photo 1: Components of the 100-Mile Suit include this necktie, shoes and trousers. Ninety-two percent of the outfit was locally grown, raised and processed.
Photo 2: Weaver Mary Smull aids in the construction of the trousers and shirt.
Photo 3: Aurora, a Shetland sheep from Judi Lehrhaupt's Ewe Can Do It sheep farm
Photo 4: Cordwainer (shoemaker) Marie Wigglesworth traces a shoe template onto buckskin.
Photo 5: Judi Lehrhaupt of Ewe Can Do It sheep farm is on her way to becoming a master spinner.