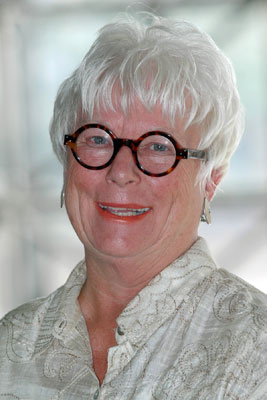 On June 14, 2010, the craft world wept as the news of Carol Sedestrom Ross' sudden death spread. The grand dame of the American Craft Movement died unexpectedly of a heart attack in the Houston, Texas, airport.
If you knew Carol Ross, then chances are pretty good that she touched your life in some way. Perhaps she stopped in your show booth and made a casual suggestion that launched a whole new line for your craft business. Or maybe she put you in touch with someone important to your cause or project—she always "knew someone." Or she could have presented an opportunity to you that changed your career or life, like she did for me. However we met Carol, we were all captivated by the little silver-haired woman with boundless energy, dressed in bright green clothes and showing off the newest pictures of her beloved grandchildren.
In 1975 fiber artist Randall Darwall of Bass River, Mass., participated in his very first craft show at Rhinebeck, N.Y. The Rhinebeck show, previously called the Northeast Craft Fair, had moved around to different cities and finally settled in upstate New York. Darwall, a high school teacher at the time, heard his peers talking about the show and decided to give it a try. On setup day, Carol came to unlock the gates and let the artists come in. "We all followed Carol through the gates, and I have been following her ever since," says Darwall.
Darwall and Carol were panelists at a conference at the Arrowmont School of Arts and Crafts in Gatlinburg, Tenn., where they got to know each other better."We sat at a table and had a private dialog in front of an audience. She was remarkably consistent with her views and saw the big picture," says Darwall. "Carol often said, if you have one great idea, don't market it. You need a few great ideas to market at the right time. It's all about timing."
The two became fast friends, often visiting each other at home or at shows. In fact, Carol Ross and her husband, Adrian, had a trip planned to visit Darwall before the August 2010 edition of the New York International Gift Fair (NYIGF). The companionship of very dear friends can provide solace, so the couple's daughters kept their date with Darwall. "Someone said Carol was already busy reorganizing heaven," says Darwall.
Bruce Baker, jewelry artist and arts consultant, became acquainted with Carol around 1979 at the Rhinebeck show. Baker was exhibiting his jewelry at the show. "Rhinebeck was the Emerald City for artists," jokes Baker. "There was nothing else like it. We were all intimidated by the show and by Carol. All the artists were on their best behavior when she walked by."
In 1983 Baker was elected as a juror for the Baltimore show. In those days, the Rhinebeck artists voted for the jury panel. Long after the other jurors turned in for the night, Carol and Baker bonded over cocktails and shared their life stories. Their paths crossed many times after that. He was on the board of the American Crafts Council, and they often met in New York or other cities to catch up over dinner. Baker recounts a story at Winter Park, Fla., where he was exhibiting. He and Carol had reservations at a really great Thai restaurant. When the show closed for the night, the wind picked up and Baker needed to pack up his whole booth to avoid damages.
Carol came by, rolled up her sleeves and helped him pack up so they could get to the restaurant on time. Gossip travels fast at an art fair, and by the next day, everyone wanted to know how Baker rated to have the Carol Sedestrom Ross pack his booth up. "Carol was instrumental in starting my career. She hired me to do a slide workshop for ACC's Minneapolis show. She wore my jewelry during Rhinebeck show days, and when she married Adrian Ross, I was honored to make their wedding bands," says Baker.
Alan Steel, executive vice president of George Little Management (GLM), first met Carol in the early '80s at Rhinebeck. GLM had just started its juried Accent on Design division, and Steel was looking for potential exhibitors. He also wanted to meet Carol, whose reputation preceded her. "At the time, there was a separation between the craft movement and gift shows," says Steel, "but Carol was bringing American crafts to the wholesale market at Rhinebeck with considerable success. We quickly found we had similar views. We both believed craft could be a mainstream product and craftspeople could produce for gift stores."
Sometime later, Carol was hired by GLM to expand American crafts into GLM's stable of gift shows and to develop an international crafts presence. "She and the crafts industry grew together," says Steel. "Through her work at GLM, she traveled the world, speaking about crafts. She saw the economic globalization coming. She embraced it, yet she continued to protect the integrity of the American crafts market."
If you attended the memorial service for Carol Ross, held at NYIGF, you may have seen a photo of Carol and Adrian dressed as birds. "Carol couldn't resist getting involved in events," explains Steel. The bird costumes were for a Halloween event in Lake Tahoe, where she lived at the time. "She was always ready to fly—both in a metaphorical sense or on a plane. It's ironic that she passed away in an airport."
In 1980 Fran Redmon, then director of the Kentucky Crafts Marketing Program, went to Rhinebeck to see the Crafts House and meet Carol. The Crafts House was completely furnished and supplied, top to bottom, with American Crafts. In 1982 Redmon initiated Kentucky Crafted—The Market, a dual wholesale and retail show, and invited Carol to conduct training classes to help artists prepare for the show.
"We picked her up at the airport," Redmon reminisces, "and she sat in the backseat organizing slides in a carousel while we talked. In the '80s, there was no road map for artists on how to do shows. Not like there is today."Carol was the expert and knew how to talk to artists. She once had her own arts business producing clothing from handmade fabric. She lectured artists at three different locations around Kentucky.
"Afterward, Carol went to GLM and advocated our cause, and in 1985 Kentucky artists were represented in a booth at the New York International Gift Fair," says Redmon. "Carol gave so much to Kentucky, not just to the Kentucky Crafts Marketing Program, but to other Kentucky-based crafts organizations as well."
Linda Van Trump, managing director of the Craft Organization Development Association (CODA), first met Carol in 1990 at an early meeting of CODA in Deer Isle, Maine, hosted by the Maine Crafts Association and Haystack Mountain School of Crafts. Back then CODA was still a twinkle in the eye of craft organization directors. Its bylaws were adopted and annual dues initiated that year. It was at this meeting that the Year of American Craft 1993 became the focus for CODA during the next four years, successfully bringing national attention to the work of the hand while strengthening and uniting the organization.
"Carol and I were both staying in the home of Mary Nyburg, who owned the Blue Heron Gallery," says Van Trump. Nyburg has since passed away and her home now belongs to Haystack. "We would meet each morning and talk about the crafts movement over breakfast."  The ideas flowed between the two and a longtime relationship formed. Carol attended every CODA conference after that and with GLM, hosted two of the annual conferences: one in San Francisco, Calif., in 1986 and one in Boston, Mass., in 1989.
"Carol was the driving force behind the CODA Survey: The Impact of Crafts on the National Economy," says Van Trump. The results of this landmark study showed the sales of handmade crafts were a $14 billion industry (in 2001).The survey provided a much-needed tool at a time when many state departments of heritage, tourism and economic development recognized the potential in supporting craft programs. Through her leadership, GLM was a sponsor of the survey and has contributed to CODA every year since 1995. "She was my mentor and my friend," says Van Trump. "She taught me to start with a big idea and break it down from there. I don't think CODA would still exist today if it wasn't for Carol."
As the director of the Michigan Guild of Artists and Artisans, I knew of Carol Sedestrom Ross. Her name was in The Crafts Report nearly every month. I listened to her presentations at CODA conferences and hung on her every word. I met her when the Michigan Guild was invited to be a guest of GLM at the Chicago Gift Show. I was in awe of her. One evening in the fall of 1997, the phone rang. I had moved back home to care for my ailing mother. My brother answered the phone and said, "Some lady named Carol Ross is on the phone." Gulp! Carol called to invite me to interview for a position at GLM.
With Carol Ross' influence and my position with GLM, I learned so much about the industry we served. Her name was my calling card wherever I went. She was my role model and mentor. She used to say to me, "Crafts have been very good to me." Looking back, I have to say no Carol; you have been very good to crafts.