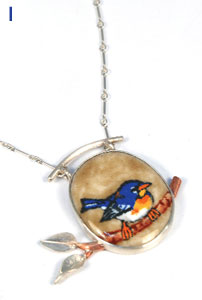 Pema Chodron's recent book has the prescient title, When Things Fall Apart. She explains how we all experience wanting things to be different than they are, but, if we can stay present, breathe, and really, deeply let ourselves feel the uncomfortable physical impact of fear, "touch the awareness of the experience," and "the link with all humanity," then we could really learn something.
Even though artists may have always been more sensitive to and connected with people, a little of Chodron's "abiding compassion" and awareness may help us not just survive but maybe even thrive in these tough times.
Carol Sauvion, gallery owner and producer of the PBS series "Craft in America," has traveled extensively around the country and arguably has her thumb on the pulse of the craft industry better than anyone else. From her vantage point, "There are three key factors that are markedly different in the craft world, and bode well for weathering this economic storm. …The first is that artists by nature are already used to juggling, making tough lifestyle compromises to pursue their passion and be self-sufficient; they are better prepared and more resilient than the average person.
"The second is that artists are closer to the collector than in the average product consumer chain. The artist sells to a gallery, the gallery to a collector; oftentimes the artist meets the collector at the gallery. It is a very personal relationship with virtually no degree of separation. …Third, people buy crafts in a totally different way. They have lasting value. A piece of jewelry that someone bought 25 years ago can be and still is fashionably worn today."
Feng Shui master Melani Lewandowski expands on the value of craft, noting that, "In changing times, people become more deeply connected with their personal environments, and gain a sense of stability by being surrounded by handmade things." Scientist David Hawkins, in his book Power vs. Force, explains the phenomenon that things made by hand actually have and impart a higher level of energy and consciousness.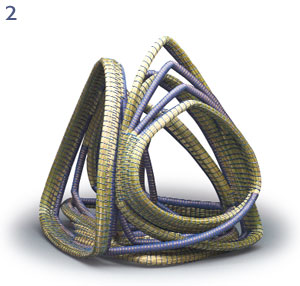 Nonetheless, there is a very real downturn in the economy. Galleries nationwide are reporting lower profits, some up to 30 percent less than years prior, and artists' sales are down as well.
In her own gallery, Sauvion notes she is doing her best not to let staff go, and is instead "in-sourcing" and encouraging more multitasking. Rachel Gehlhar, for example, is an enamel artist who both exhibits and works at Sauvion's Freehand Gallery, and has recently taken on the task of photographing artwork for the website, with more than edifying results.
The decision was not random. While retail postings have been down, e-commerce has suffered significantly less, and Sauvion, tracking these statistics, decided to invest specifically in e-commerce improvements to her website. "Our site was really more informational, and now we are making conscious design choices to improve its e-tail functionality. Rachel's work is helping to make that investment affordable and doable."
Toni Sikes, founder and current artistic advisor to The Guild, whose catalog and website reach millions of consumers and represent over 1,400 artists, found that making yourself more affordable to the consumer has yielded positive results. Last July and January, the company invited artists to give self-determined reductions in price on select pieces, meeting with great success. "Customers really appreciated the gesture of goodwill, and it realistically reflected what was happening in the rest of the retail market." The caveat Sikes notes is to "keep your prices consistent, so as not to undercut your stores or other sales outlets." Sikes encourages other promotions instead of or in addition to some reduction, such as free shipping, or gift certificates toward next purchases, and thank-you calls after purchases.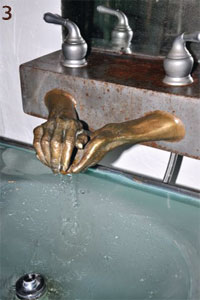 Art curator Eileen Tognini feels that "this is a great time for examining how we look at our work, and how we define ourselves." She encourages artists to "look beyond the distinctions of art versus craft versus design, and consider functionality." She has helped artists cross these boundaries, notably by commissioning installation artist and sculptor Susan Benarcik, photographer Talia Green, and sculptor Carson Fox for projects in situ, someone's home, where art ultimately finds its place; each redefined their oeuvre to create extraordinary wall surface designs. As with sculptor Greg Nangle, who stepped outside his bounds too by fashioning a "double entendre" sink, possibilities expanded.
How do you know where to explore—in what direction you should stretch? Art business consultant Susan Schear advises, "Plan and set goals. Consider your core competencies. Think about what you are best at doing. Focus on streamlining your products so that you are not 'trying to be everything to everyone.' Look not only at what other craft artists are successfully doing and how you might model that, but also at what businesspeople in other industries are doing. Ask yourself how you might communicate more and more effectively with your buyer."
The February issue of CERFnews (the Craft Emergency Relief Fund's newsletter) features interviews with various artists applying their creativity in challenging times. These artists suggest getting more involved in one's community, scaling back on the number of shows to a few strong ones, honing databases, updating visuals, using electronic marketing and social networking tools such as Facebook, Flickr and Etsy accounts, and keeping customers more informed about your work. CERF is also in the process of producing a tool kit about preparing your studio for any kind of emergency, including an economic one. This kit, called the "Studio Protector," will be both an interactive wall chart for the studio and an online destination, and will be available in late summer.
Schear also suggests playing with the idea of trunk shows in homes, cafés, libraries and restaurants, showing in affinity market shows related to your products, and pooling resources for group marketing efforts. "Reach out to your customers and your colleagues."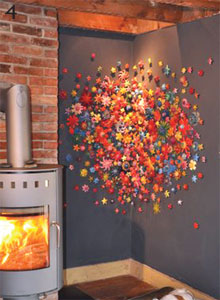 Susan Summa of Atelier Designers, who produces wholesale womenswear and accessories shows for small designers with limited production, underscores the importance of communication, asking for information and really listening to the message. "Just trying to resource lower-cost fabrics or construction methods isn't the complete answer to success. Innovation and creating 'gotta have it' items is far more important."
How do you know what is a "gotta have it" item? If you are working with stores, Summa explains, "It is critical that each delivery is followed by a phone call to see if the merchandise was well-received, on target, fit properly, etc. If a designer doesn't find out this critical information right away, and heed it, he or she will probably repeat the mistake the next season. Right now, there is no room for error, and if we pay attention and learn, that will make us all better at what we do."TCR
Krista Bard is a business and organizational advisor, an artist, a community activist and the author of The Big Difference book about managing change.
To keep this dialogue alive, author Krista Bard is hosting a series of four, free tele-seminars. To sign up, send an e-mail to sshain@kristabard.com; you will be sent call-in information. Space is limited.
Wednesday, May 20, 2009, 6 pm to 7:30 pm EST
"Feng Shui and Creativity," with Feng Shui Master Melani Lewandowski
Wednesday, May 26, 2009, 6 pm to 7:30 pm EST
"Refreshing Your Business Model," with Susan Schear, CEO of the arts business consulting firm, Artisin
Wednesday, June 3, 2009, 6 pm to 7:30 pm EST
"Communicating With Your Customers" with database and Constant Contact expert Audrey Julienne of Raison d'Etre Marketing
Wednesday, June 10, 2009, 6 pm to 7:30 pm EST
"Developing an E-Commerce Site: the Fastest, Easiest. Least Expensive Basics" with technology and e-commerce expert Terri Knapp-Aguirre
Captions
Photo 1: Northern Parula Necklace by Rachel Gehlhar of Freehand Gallery
Photo 2: Sweetgrass sculpture by Debora Muhl, commissioned by the PA Council on the Arts for the 2008 Pennsylvania Governor's Awards for the Arts. Photo by John Sterling Ruth
Photo 3: One Hand Washes the Other sink by Greg Nangle. Photo courtesy of Eileen Tognini
Photo 4: Stone House Flower Burst wall display of cast-resin flowers by artist Carson Fox. Photo courtesy of Eileen Tognini